Tattoo #5 — Portugal
Muito obrigada a minha amiga, Susana (aka Susboom) for tattoo number five!
It's been a few countries since my last tattoo, and when I decided on this idea I started looking up local places for while I would be in Porto (rather than just anywhere in Portugal) because I was trying to coincide with a certain date.
I came across Minimal Ink and their artists, and I fell in love with Susana's work and artistic style. She uses fine lines, a clean design, and every tattoo she does really is designed with love. We had our consultation over Skype when I got back from China and from everything I told her she designed this. I absolutely love it! I think my favorite tattoo so far but don't tell the others. 😉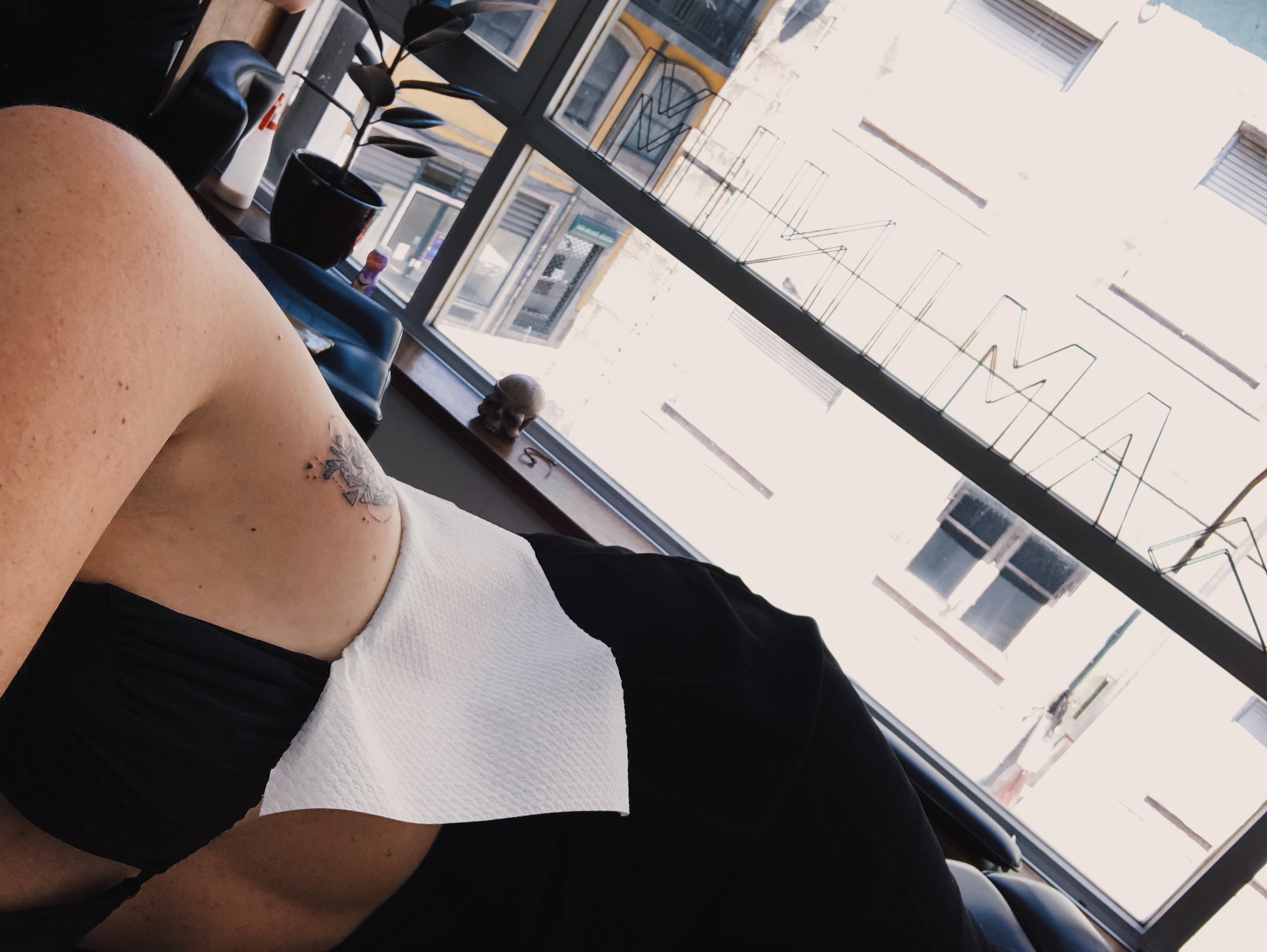 First, if you're ever in Porto I highly recommend this place for a tattoo. Even if you're not in Porto, it's worth traveling to find. Not only are the three artists extremely skilled, but they're just as friendly and kind. The studio feels more like a home, and I felt instantly comfortable there from when I first showed up for my appointment until when I left a few hours later.
The meaning behind the tattoo started from the poem by e.e. cummings "i carry your heart (i carry it in my heart)" and it's in honor of my brother. The geometric aspects give off a diamond vibe, shining bright and stronger than most.
Within the design are numerical occurrences; for example, the two straight lines and the two larger circles, etc. So in a sense it is one heart, but made of two. Everywhere I go in the world, I bring the energy of my brother with me. I carry his heart in mine.
🖤
i carry your heart with me(i carry it in
my heart)i am never without it(anywhere
i go you go,my dear;and whatever is done
by only me is your doing,my darling)
i fear
no fate(for you are my fate,my sweet)i want
no world(for beautiful you are my world,my true)
and it's you are whatever a moon has always meant
and whatever a sun will always sing is you
here is the deepest secret nobody knows
(here is the root of the root and the bud of the bud
and the sky of the sky of a tree called life;which grows
higher than soul can hope or mind can hide)
and this is the wonder that's keeping the stars apart
i carry your heart(i carry it in my heart)
- e.e. cummings
Jessica M. Brightman
I've found that life is always better when looking at the bright side. I'm a creative and inspired communicator with experience in marketing, public relations, new media + graphic design.